A Roseate Bloom in your Cup
22/100 Units Remaining + Free Tea Tasting with Chris MacNitt!
A Tea Expert's Choice
Nalin Modha, a tea manufacturing consultant and a veteran teamaker at Darjeeling, played a key role in discovering Rose Label Reserve amongst multiple different cultivars in the farm.
TASTE ROSE LABEL RESERVE
Vetted by Expert Sommelier
Chris MacNitt, the Tea Development Lead of Starbucks, vouched for this unique tea while tasting 20 different teas made in our family farm in Phidim, Nepal.
TASTE ROSE LABEL RESERVE
A Rosy Elixir in Your Palate
Rose Label Reserve has a burst of sweet camphor reminiscent of an early rose bloom as the top note, floral tones of eucalyptus with slight sweetness of honey and brown sugar as the middle note, and a calming zing of minty citrus as the bottom note.
LEARN MORE ABOUT THIS TEA
Steep Hills Make the Best Tea
Rose Label Reserve is a high elevation tea infused with the microclimatic benefits of the Himalayan foothills. Nepali teas are generally more floral and lighter than teas from other sources.
TASTE ROSE LABEL RESERVE
Chandra's Magic
This year's Rose Label Reserve was made by the careful artisanship of Chandra Bhattarai. Chandra is one of the teamakers of Kanchanjangha Tea Estate and Research Center, our family farm and the first organic certified tea estate of Nepal.
BREW CHANDRA'S MAGIC
Rose Label Reserve - 2023 Harvest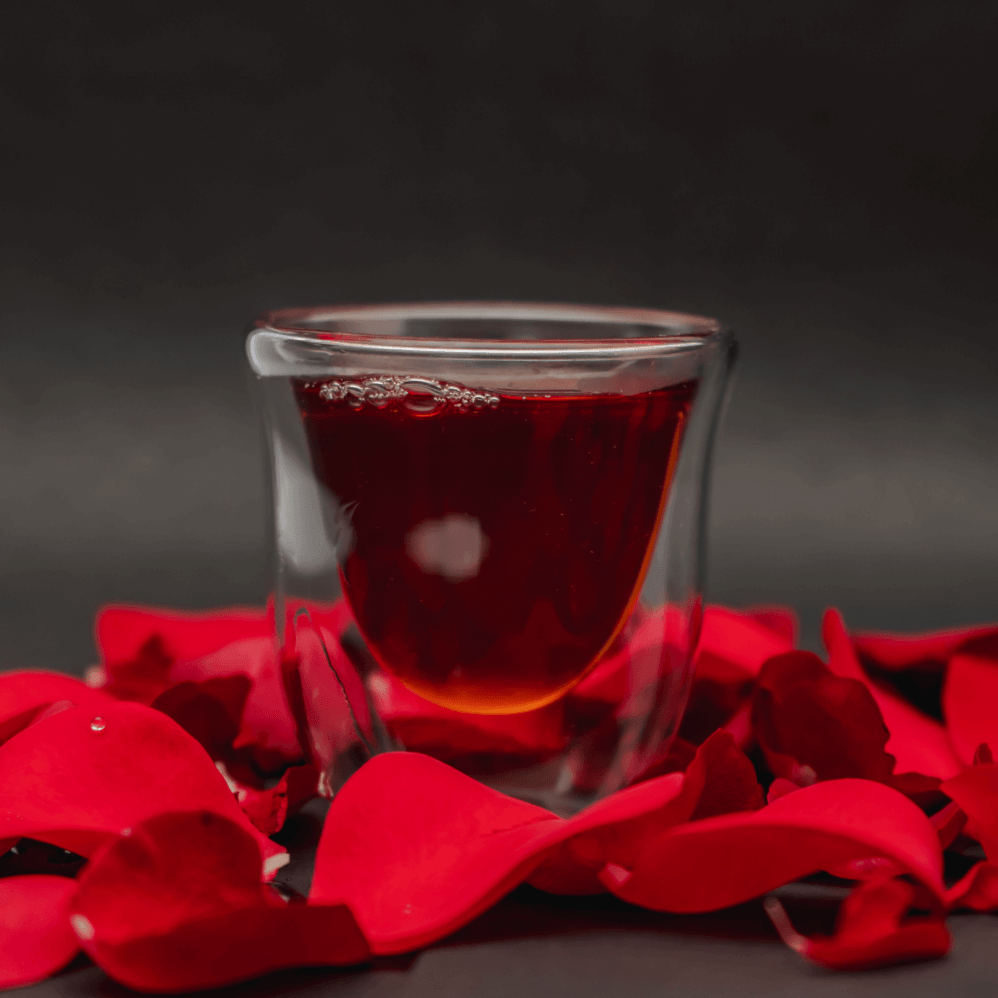 A very rare Nepalese black tea, first pluck of 2nd flush
I prepared the tea according the instructions on the package, with soft, filtered water:
2 gr 240 ml 100 C 4 minutes
The promised burst of rose did not happen, although notes of red rose definitely appeared later on.
I steeped the tea twice and will try in different ways on days to come.
Here are today's tasting notes:
Dry leaf: floral, fruity, muscatel, ripe, yellow plum
Dry leaf in preheated jug: rose-hip jam on freshly toasted bread; cookies.
Wet leaf: fruity, floral, red rose
Liquid: caramel pudding, sweet, later on sultanas
Flavor profile: dry, rich and bright, sweet, bitter, umami, a hint of acidity, fruity, floral, woody, spices; muscatel, yellow plum, red rose, clove.
The aftertaste is very, very long, goes on and on and on! Slightly astringent, slightly bitter in a fruity way, bright, red chili.
When cooler: sweeter, softer and fruitier, starfruit, yellow plum, muscatel, red pepper, mint.
Much cooler: bitter and fruity: red grapefruit with pepper.
Second brew: 77 C, 6 min
Much paler liquid, rounder, softer, sweeter, a hint of camphor, bees wax, wild honey. Pepper is dominant in aftertaste, followed by mint and mango. This time again an aftertaste that goes on and on: fruity, sweet, bright, refreshing, peppery.
Rose Label Reserve is just marvelous
Amazing aroma, delightful taste! Beautifully made to perfection!
Bravo!!
Last year I missed out on this tea so I am super excited to be able to taste the 2023 Rose Label Reserve tea. The dry leaf aroma is mouth watering muscatel, warm caramel & a soft floral bouquet. I have tried brewing it multiple ways and each way has offered its own lovely sublime surprise. My favorite infusion style is by following the package reccomendation of western brewing. The flavors in the aroma are all present and well balanced with a touch of pepper hiding in the foreground. There is a sweet cane sugar aftertaste with a soft blush of rose that lingers long after the sip. The floral note seems to bloom, in the middle on the mouth, revealing itself as a rose. In one cup I accidentally over-brewed my steeping time but I was pleased to find that, despite my mistake, there was not even a hint of bitterness or astringency. "Bravo" to Nepal Tea Collective for a spectacular 2023 Rose Label Reserve Tea! It is truly a lovely tasting journey. In this fast pace lifestyle we live in it is nice to have a tea like this where I can relax, take take my time and treasure each sip.
Price versus Taste
Do not let the price of the tea influence your tasting. With a price like this, think more about supporting Mr. Gurung and how incredibly special it is that he shares this gift with the world.
For this tasting I am steeping 2.5 grams. Exactly. Never done that before. Water at 185F. Timer set for 3 minutes of infusion. The difficulty with tasting expensive things is not in how the taste actually is but based on how the dollar amount shapes your perspective. Oftentimes product marketers will say a product is worth more than it truly is to see how differently people react with it. Try your best to taste like you do with all te
Dry aroma: Woody. Slight floral, rose. But is that the suggestion in the name speaking?
Dry appearance: Golden buds and dark chocolate leaf. Tightly twisted.
Wet Leaf appearance: Mostly chocolate brown but a few are olive green.
Wet leaf. Slight rose aroma. But not your general rose, more specific. Like walking though a flower garden and smelling each one.
Flavor. The first sip had some roasted vegetal notes. An undertone of decaying wood. Honey and rose notes.
Mouthfeel: Silky. A bit of astringency to finish but not an offensive drying sensation.
Liquor aroma: A bit bready. Not quite as bready as other Nepal teas I've had.
The second steep is coming out quite a bit more floral. Perhaps it was also the longer steep? Slightly more astringent but still in a good way.
fragrant and soft but full bodied
The Rose Label # 157 that hails from the Bannockburn #157 cultivar is a pleasure to drink - I brew it at a bit stronger ratio than recommended and infuse for shorter time, almost gongfu but not quite - i find this tea to be easy to like - it is fragrant, both in aroma and taste, it brews strong but not bitter and the soup is silky.
Good tea if pricey.
Dating back to nearly half a century ago, the Rose Label Reserve tea comes from the rare Bannockburn #157 Motherbush. This tea takes you right in the middle of a roseate bloom. You open up the pack and the air is redolent of a rose garden fondly worked on and curated just for you. Breathe that aroma in and invite a pleasant moment into your life.
Testimonials from Experts
★★★★★

I am so glad Kanchanjangha Tea Estate and Research Center took up my advice and guidance to produce this rarity and share it with the world. This tea is nothing short of rose gardens in your cup. The palate that this tea brings to you is so memorable that it stays with you for hours after your very last sip.

Nalin Modha

Tea Manufacturing Consultant, Darjeeling
★★★★★

This tea filled with the passion of the people who make it opens up a beautiful bouquet of floral rose that infuses the entire experience. Nepal is an origin whose terroir challenges tea producers, but has the potential to forge a unique place within the industry.

Chris MacNitt

Tea Development Lead at Starbucks, New York
★★★★★

As you open the packet, you meet the tea for the first time. It's a love at first fragrance – a garden of roses that slowly develops and matures into vanilla like soft sweetness. You just can't stop smelling this tea!

Nishchal Banskota

Founder - Nepal Tea Collective